Ever heard of the term Under Construction Page? I believe for sure you have at some point in time.
In fact, any blogger is familiar with that term!
But the issue still remains!
You don't use it
You don't know what it's used for
You have little knowledge of its importance
While above may be true which it is for sure.
On this page you'd be learning how Under Construction page works, how to use and leverage it to your blogging success and user engagement.
But before then, I'd walk you through understanding how it works.
What the heck is an Under Construction Page?
The best way to know how well your blog is performing is to actually think like a visitor.
Let me share this little stuff with you!
I was surfing the internet and reading some blogging related posts. While at that, I happened to search for a question on google.
One I've been looking to get an answer to for a long time now and yea, I finally saw the solution on google search results page.
But something happened
As a searcher, I was curious to click on that result to see what really the blog tutorial have to offer me and whoaa!
I noticed the blog was being worked on.
Owner was kinda fixing some bugs on the site, and it drove me away quickly because I was unable to find the tutorial.
I had to leave the site and may never click on its search result again.
Now what's the Point Anyway?
A lot of potential visitors who also arrive on that same blog from search engines would not be seeing a solution to their questions as the site is currently being updated.
And so, they leave and are gone forever.
Now this would have been better
It would have been great if the owner of that blog had an Under Construction page plugin that actually tells visitors that the blog is currently being worked on at the moment.
They should check back in some minutes or so.
One Like Below;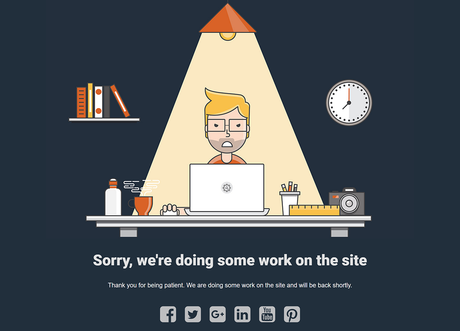 So Cool Right?
The Importance of having an Under Construction Page?
When you are doing some work on your site, it keeps you professional
Visitors feel welcomed when they can actually see a message letting them know you are working to improve your site and they should check back later on
When your site breaks while working on it only you would be able to see that while readers or visitors see the construction page.
Now that you know the few important, the question on your Mind Now is how to set it up to start working on your blog too. Just incase you decide to do some work on your site.
How to Setup Under Construction Page Free for WordPress
You can easily do this with the help of the free Under Construction Page Plugin from WordPress Depository.
Features of the Under Construction Page Plugin
Beginner-friendly, simple & fast

new designs 2 times a month

130k active users, with 10k/month growth

support for most caching plugins so there's no need to manually purge

over 800 five-star reviews

email support

optimized for SEO

Etc
Other Coming Soon Features of the Plugin
Drag and Drop page builder
Improved access control
Custom links with custom expire rules
MailChimp and Zapier support
Support for local database autoresponder
Import and Export settings
Unsplash API integration – get access to more than 200k photos
Newsletter module
Much More
Below is a Video of how this free wonderful plugin works before I show you how to set it up!
So when you are ready to do some changes on your wordpress website or blog.
Follow the below steps to activate this plugin.
Download the Plugin from wordpress.org, Upload to WordPress and Activate it.
Go to settings of Under Construction Plugin
Visit the Design tab to select the design you really want
Select it and Click Save as seen below
Now you will want to head in to the Content Tab and edit the message visitors would see when they visit the site when its still under construction mode.
Always make sure you click Save Changes when done.
Now that you've set up all necessary stuffs to be displayed you need to activate the plugin to start showing just incase you decide to work on the blog for a while.
Here is what to do
Head back to the MAIN and toggle the under construction mode button.
Yea, you just did it.
Now that is switched on, Readers or visitors who arrive on your blog during this time would be shown the under construction page.
While only the admins are shown the live version of the blog.
You can set the date you chose to stop it using the Automatic End Date & Time tab.
If you prefer Video to text, then below would show you exactly and in details how to set it up properly as well.
Now that you know how to setup under construction page for your wordpress blog.
Why not share with friends on social media?
Have any other way you do this? Do leave your comments and questions in the comment section.